Versatile Beta Carotene DC Powder: Unlocking the Potential for Various Products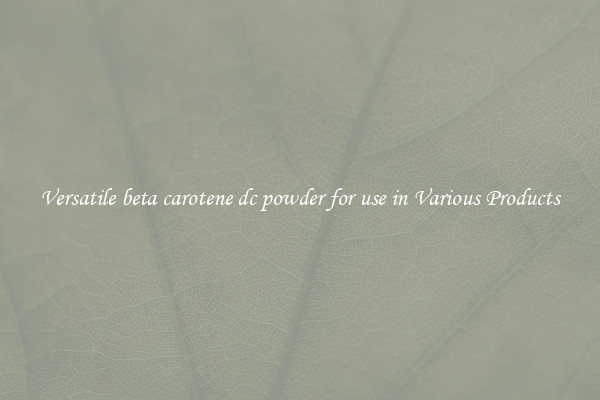 Beta carotene is a powerful antioxidant that is responsible for the vibrant color of many fruits and vegetables. It is also a precursor to vitamin A, a crucial nutrient for maintaining healthy skin, vision, and overall immune function. While beta carotene can be obtained through a balanced diet, its incorporation into various products has gained significant popularity.
One product that has gained attention for its versatility is beta carotene DC powder. DC stands for "directly compressible," indicating that this powder can be easily incorporated into a wide range of products, including tablets, capsules, and powdered formulations.
One of the significant advantages of beta carotene DC powder is its stability. It is known that beta carotene can be easily degraded through factors such as heat, light, and oxygen exposure. However, the DC powder form offers enhanced stability, ensuring that the nutrient retains its potency throughout the product's shelf life.
Another benefit of using beta carotene DC powder is its convenience in formulation. This powder can be easily mixed into various product formulations, allowing manufacturers to create products with specific beta carotene content. This versatility opens up a plethora of possibilities in terms of product development.
Personal care products have widely embraced the incorporation of beta carotene DC powder due to its skin-boosting properties. Skincare creams, lotions, and serums that contain beta carotene can help promote healthy, glowing skin by protecting against free-radical damage and providing essential nourishment. Additionally, beta carotene has been linked to supporting an even skin tone and reducing the appearance of age spots and blemishes.
The benefits of beta carotene extend beyond skincare. Dietary supplements have also embraced the versatility of beta carotene DC powder. Formulating beta carotene into supplements enhances the provision of this important nutrient, providing individuals with an easy and convenient way to support their vitamin A intake.
Furthermore, beta carotene DC powder has found its way into the food and beverage industry. Its vibrant orange color adds visual appeal to various products, making it an attractive natural alternative to synthetic food colorings. Whether added to smoothies, juices, or baked goods, beta carotene DC powder is a fantastic way to boost the nutritional profile of a product while enhancing its visual aesthetics.
The versatility of beta carotene DC powder is undoubtedly revolutionizing the way we think about incorporating this vital nutrient into various products. Its stability, ease of formulation, and numerous health benefits make it a valuable ingredient in the skincare, dietary supplement, and food industries. With continued research and product development, the possibilities for utilizing beta carotene DC powder in various applications are limitless. So, next time you come across a product boasting the benefits of beta carotene, remember the versatile DC powder that made it all possible.